Mercy Hospital St. Louis
Emergency Department Expansion and Renovations
Saint Louis, Missouri
Managing Principal: Jim Frechman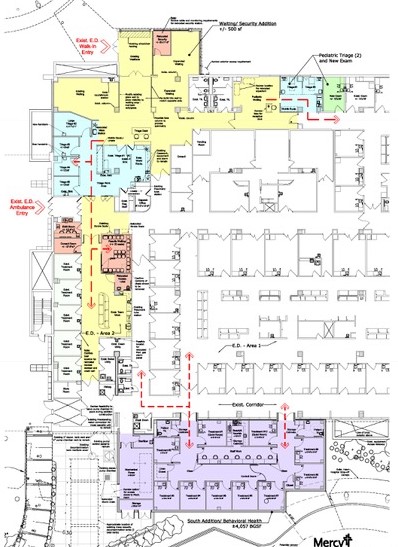 To address increases in volume that have nearly doubled since the creation of Mercy St. Louis' current Emergency Department in 2006, TKH was engaged by Mercy to facilitate planning efforts which included involvement from key facility stakeholders, Mercy Planning & Design representatives and simulation modeling consultants.  Mercy's ED is a Level 1 Trauma Center, Certified Stroke Center and Stimi Center with a significant percentage of higher acuity ESI patients.  Separate areas for Adults and Pediatrics are currently provided with several Behavioral Health dedicated treatment rooms located in a decentralized manner throughout the ED.  Project goals included reducing patient wait times, ALOS, accommodating increased volumes with Behavioral Health related visits, minimizing use of hall beds and reviewing opportunities for process improvements to increase throughput and efficiency.
A multi-phased approach to address project goals was developed.  Initial Phase expected to be completed in 2017 included the following:
Waiting area
Addition of Triage Stations for both Adults and Pediatrics
Vertical 3's Area (Adult) – Utilization and dedication of existing space to focus on lower acuity patients (ESI levels, 1,2, and some 3's)
Creation of a new Results Waiting Area
Small building addition (approx. 4,000 BGSF) dedicated to Behavioral Health patient population which doubled number of treatment rooms and centralized within a safe and secure environment
Created a Clinical Decision/Observation Unit one floor above to help decompress the ED by freeing up those beds used for monitoring while determination to admit or discharge patient is made
Future phase(s) included the additional expansion of ED footprint and treatment spaces when future campus plan creates open chair for growth.